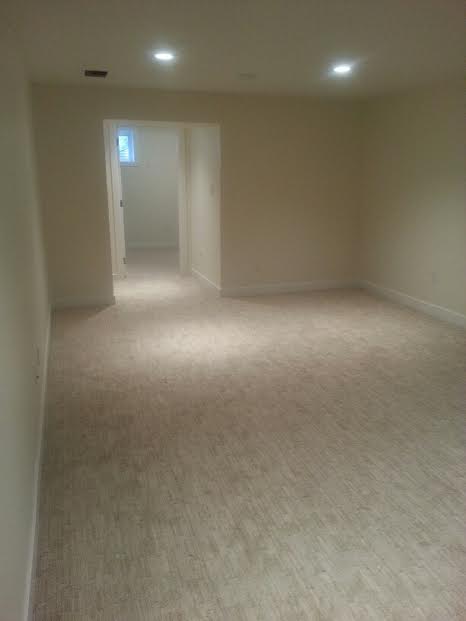 It's a common question, and the short answer is no, not if you can help it. However the long answer requires a little more focus because homes are vacant for all kinds of reasons. let's look at some facts first and then you might be able to decide!

1. Vacant houses don't have a great sense of space. People aren't always sure if their furniture will fit. If there was a set of furniture in the home, that fit nicely, then a buyer can see where their stuff will go. Even if their stuff is completely different, having furniture in the home will show them more accurately how big the space is.

2. Vacant homes show every flaw. This is probably one of the bigger ones. Look around the room you are in right now, there is a big chance that somewhere in that room, or in your house, there is a flaw. With nothing else in the room to look at, the flaws will be amplified. Now, I am NOT suggesting that you hide flaws! In fact, for this example I strictly speaking of paint splatters on the ceiling, or a baseboard seam that is slightly imperfect. Major stuff should never ever be hidden. The reality is, that baseboard seam is probably exactly where a bed would go, and frankly most buyers probably won't care. However even the most easy going buyers see that stuff and point it out. Does it work against you? I think sometimes it can.

3. Vacant homes can be a target. In Edmonton you don't have to list your address on MLS for the world to see, especially if the pics show that it is vacant. Something to consider is to take pictures before you empty the house out.

4. On the plus side, vacant homes are easier to keep clean! Make sure to give it a deep clean before listing, carpets, walls, cupboards, everything. However you need to make sure that someone checks on them regularly to ensure they stay that way, dust settles and just seems more obvious in a vacant home.

So what can you do about making sure your vacant home is showing at its best? Staging is a great option, and usually your best bet, but it isn't always affordable for some people to stage an entire house, this is ok!! If you can afford it, most stagers will work within your budget, sometimes all it takes is to stage a few key rooms and that will do the trick!

Alternatively you can borrow some furniture from someone. I had a listing of a young man who had purchased a home 4 years previous so he and his friends had a place to live during university. The home was a beautiful character home. At the end of University he sold it, but as most university students know, you have used furniture. The stager recommended he replace that, and as luck would have it, his parents had some nice furniture in storage that he was able to borrow instead of renting furniture. So he was able to work with the stager and his borrowed furniture to create a beautiful end product.

Also, consider colour scheme. I remember a house that was for sale once, the entire house was beige. The exterior, the interior walls, the carpet, the tiles, the cupboards.. it was the strangest experience being in that house. The truth is, it sat on the market. All it would have taken was for the owners to paint the walls a different colour.

~~ So, what is my professional opinion you ask? I understand that some houses need to be sold without someone living there. This is unavoidable. However, I feel that houses that are furnished (or have some furnishings in them) create a sense of space, and home, and sell better and faster. There are some stats floating out there that show how much faster staged/furnished homes sell over completely vacant ones. I also feel equally strong that fresh paint and a very clean home help as well.

I reached out to the talented Jill Gargus, CEO and founder of the staging and design company Simply Irresistible Interiors to see if she had any input. She did agree that it is important to stage key rooms if that is the limit of your budget. She was kind enough to lend me some pictures for this post, thanks Jill! Above is the after shot.. want to see the before? Here it is!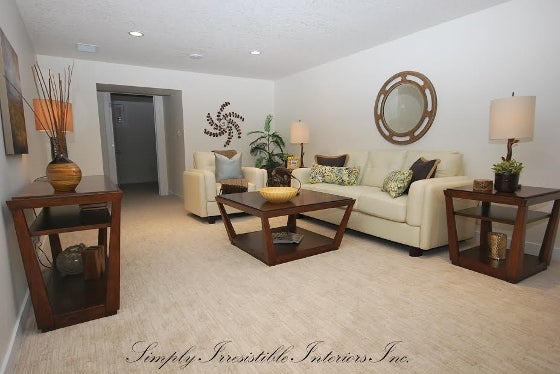 Be HONEST now.. do you think there is a difference? I do. It shows me what size furniture fits into that space, and I think it looks bigger too! Staging is also an opportunity to create a lifestyle, show someone (a potential buyer perhaps!) some great uses for the space. If you would like to learn more about Simply Irresistible Interiors, please visit their site:
HERE
To see what packages and services they offer: Go
HERE
Jill has been staging in Edmonton for 12 years, with the primary focus being on staging vacant homes. They offer 3-10 room packages, with set prices and many extras included such as videos, photography and social media marketing to name a few. They also have their own warehouse and staff, delivery and trucks, so they are fully capable of staging everything!
At the end of the day, I will work with whatever situation works for you. Like I said, sometimes it is just not feasible to rent, or borrow furniture, and it isn't in the budget to paint. We deal with each situation as it comes :)